As a wine writer/blogger, you find inspiration from so many places. I usually find inspiration from the things that I am passionate about. So today wine and music is my inspiration. I was blessed enough to be a part of a +
White Oak Vineyards &Winery
tasting at +
The Grapevine Wines & Spirits
wine shop in my neighborhood in West Little Rock, AR. I want to thank +
Christopher Engleby
and his staff for making time for +
Dave Jefferson
and I the opportunity to share +
White Oak
wines with the staff and customers.
I am a single mama of a 16 year old son with Autism, Evan. So, my life always is surrounded by Autism. I shared this with you because I am sure that some of you may have a special needs child or children, and you can appreciate what I'm talking about. So for the first time in a long time, I had an opportunity to do something I loved; my brain was stimulated, and I was in heaven! I felt like that female African American Oenophile and wine writer that I am, enjoying free time. Usually I'm just Evan's mama ( I mean that in a good way, but you get where I'm coming from), but I was so elated that some of the customers thought I was a wine representative. I felt a smile in my soul,while I talked to them about the wines, and suggested food pairings.
I happened to come across the singer +
Joss Stone
. Her CD +
Soul Sessions Vol. 2
and +
White Oak
wines inspired me to write this post. I loved the CD; Evan was so quiet, happy and rocking to all the songs. This CD was a Godsend for the both of us. Music can touch a place deep down inside of us, and music and wine is my little slice of heaven. The Syrah, had a vibe that just paired so well with this CD. I know it may seem odd for a wine to pair with music. But this wine has a soulfulness like the songs on this CD. The color is deep garnet, in the color spectrum of reds, and we all know red symbolizes love, and sex appeal. Yes, wines can be sexy, especially paired with sexy music, great food and great company.
The tasting was held on February 1, 2013. I think that we will see more +
White
Oak
wines at +
The Grapevine Wines & Spirits
. The wines were well received by the staff and the customers. +
Dave Jefferson
did some education with the staff on the appellations where the red and white wines come from, and the wine making process at the winery. I played the role of a "
wine writer partner in crime
"; I mean crime in a good way. We worked well together, and I think we both had a great time.
Afterwards I was so happy, I came home and had some of the wines, and put this CD on, and well, I had a ball. Hence the inspiration to do this post. I'll be posting reviews of all the wines I sampled, but today I wanted to write about the +
White Oak 2009 Syrah
.
This wine has a deep garnet color. The nose is filled with aromas of dark fruit, cocoa, a hint of toast. The palate has those same flavors found in the nose, blackberry was a prominent fruit flavor,cocoa, along with a slight herbal note.The wine has a nice finish, and a bit of acidity that makes it beg for beef; the fattiness just softens the acidity, and then you have a great wine and food pairing. The wine has smooth tannins that gives this Syrah some backbone. I would pair this with a burger stuffed with a pat of sage compound butter or some BBQ baby back ribs with a sweet and smoky sauce glazed over them. I love Syrah and sage together; the herbal note in this wine makes sage a perfect herb to use when preparing a meal with this wine. This wine would also pair well with
Drunken Goat Cheese
or a
Sharp Cheddar Cheese
.
Note
: This wine was a sample provided by +
White Oak Vineyards &Winery
http://whiteoakwinery.com
SRP
$26.00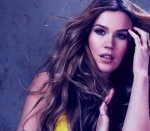 Joss Stone
http://www.youtube.com/watch?v=XrF3OK2c0oY&feature=player_embedded
Okay, why this song posted on a wine blog posting. Early on in this love song
+ The Love We Had (Stays on my mind),
there are these words in a lyric, "ain't no wine I've been drinking, for once my mind is clear." Those words made me think; when I drink wine, my mind is so free to focus on how I'm feeling (good feelings.) I am a true romantic, and this is the month of
Valentine's
Day
. So, get it red wine and love songs, just seem the exact thing to think about! I think that you all should try my wine, food, and music pairing with someone you love or someone you are falling in love with. So, open up a bottle of +
White Oak 2009 Syrah
, and grab a bite to eat and listen to this song; I know you will see where I'm coming from. (smile)
https://www.youtube.com/watch?v=EGKoTGm_29A&feature=player_embedded